Julianne Moore, Chloë Grace Moretz discuss making 'Carrie' in the digital age
Julianne Moore and Chloë Grace Moretz star in the remake of Stephen King's novel 'Carrie.' Chloë Grace Moretz plays the title protagonist, while Julianne Moore portrays her mother.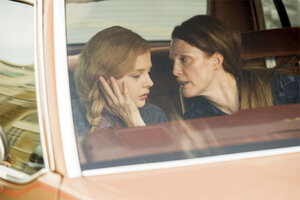 Michael Gibson/Sony Pictures/AP
"Carrie" is going viral.
In the new take on the supernatural coming-of-age story which is in theaters now, beleaguered high school student Carrie White's torment doesn't merely occur within the gym showers or on stage at the prom. It's also online, one of a few modern updates dropped into filmmaker Kimberly Peirce's reimagining of the landmark 1974 novel by Stephen King.
There are references to the "Today" show and "Dancing with the Stars," tunes from Passion Pit and Krewella playing at the prom and Carrie (Chloe Grace Moretz) searching about her burgeoning telekinetic powers online. Outside the movie, "Carrie" is also being marketed with a hidden camera stunt that's racked up nearly 40 million views on YouTube.
However, the most profound use of technology in this contemporary "Carrie" occurs while she's antagonized.
"It's how you raise your story to the level of myth," said Peirce, who previously directed "Boys Don't Cry" and "Stop-Loss." ''Too much specificity is a bore. I thought the characters needed to have cellphones, but they should probably only use them a few times. Otherwise, we're beating the audience over the head with it. That's why it was carefully chosen."
The shy outcast isn't only ridiculed by fellow students when she experiences her first menstruation – and doesn't know what's happening – after gym class. The moment is also captured on a smartphone and later uploaded to the Internet by mean girl Chris Hargensen (Portia Doubleday). It's played again on screens during their prom after bullies dump pig's blood on the teen.
This isn't just Carrie 4.0, though.
---