'The Square' unveils some of the faces behind Cairo's Tahrir uprising
'The Square' is directed by Jehane Noujaim.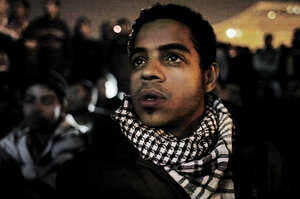 Courtesy of Noujaim Films
"The Square," about the popular uprisings in Egypt that began with the 2011 overthrow of President Hosni Mubarak, is a powerhouse documentary that takes us into the eyes of several storms. The film was originally released in January 2013 at the Sundance Film Festival, where it won a major audience award, but director Jehane Noujaim and her cinematographers subsequently returned to the streets of Cairo to extend the movie's timeline as the democratically elected but autocratic President Mohamed Morsi proved himself no less harsh than Mubarak.
This "final" version of "The Square" – if nothing else, the film points up the unceasing nature of the conflict – covers a period of roughly two years, from the initial popular uprising in Cairo's Tahrir Square, which forced the overthrow of Mubarak after 30 years of brutal dictatorship, to the summer of 2013 and the removal of Muslim Brotherhood candidate Morsi by the Egyptian Army.
Given the free-form nature of the uprisings and the many political factions involved, Noujaim, an Egyptian-American whose previous films include "Startup.com" and "Control Room," was wise to build the footage around several individuals who, in their very different ways, also represent large factions.
Among these are Ahmed Hassan, a working-class protester in his mid-20s who, in the 18 days leading up to Mubarak's resignation, acts as a kind of cheerleader for the "revolution." But his irrepressible energy is not unthinking: He is continually wary about the possibility that the ideals he is fighting for will be co-opted by equally corrupt forces. When events prove him right, he is both aghast and unsurprised. He is also, against all odds, surpassingly hopeful.
---