Noteworthy: New releases by Sheryl Crow and Vampire Weekend
Vampire Weekend's new album is (pardon us) fangtastic, Sheryl Crow returns after personal "Detours."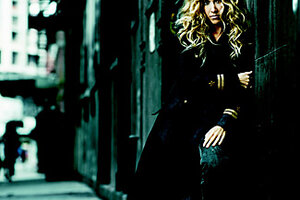 Courtesy of Norman Jean Ray/A&M Records
Vampire Weekend – Vampire Weekend (XL): Vampire Weekend is something of an anomaly – that rare act that hit it big, suffered the inevitable backlash, and then battled back to the top of the buzz bin again, all on the strength of a three-song EP and a handful of live MP3s. (Only in 2008, kids.) The good news is that this band has the chops to back it up. "Vampire Weekend" shuttles gleefully between a world-music sound reminiscent of Paul Simon, circa "Graceland," and the linear chorus-verse-chorus punch of mainstream pop. On "Cape Cod Kwassa Kwassa," which takes its name, in part, from a traditional African dance, the blend is beguiling: hooks piled atop hooks piled over a sinuous bass vamp. The best songs, though, are the ones that stray furthest from recognizable influence. "M79" is a jam of harpsichord and guitar lines; "Campus" is built almost wholly on a sinuous bass run. As frontman Ezra Koenig sings on "Oxford Comma," "it's no trick." A solid, smartly written debut. Grade: A– –Matthew Shaer
Sheryl Crow – Detours (A&M): At first, "Detours" seems more like a series of wrong turns. Not helping first impressions: Several songs initially glance off the ears as seeming filler. But repeated plays reveal that Crow has come to reclaim the crown of big-chorus power pop from KT Tunstall on songs such as "Motivation," "Shine Over Babylon," and "Make It Go Away." (A few tracks, such as the forced, happy-clappy singalong of "Out of Our Heads," are irredeemable.) The first half of the album focuses on issues such as oil dependence, hurricane Katrina, the Iraq war, and environmental catastrophe. About the only thing missing is a song tackling steroids in sports. Alas, the lyrics tend toward glib platitudes rather than fresh insight. The rest of the 14 tracks, in which Crow writes about experiences such as her public breakup with Lance Armstrong ("Love Is All There Is") and her adoption of a son ("Lullaby for Wyatt"), pack greater emotional resonance. Grade: B – Stephen Humphries
---
Follow Stories Like This
Get the Monitor stories you care about delivered to your inbox.