At Grammys, zydeco music gets a spark of renewal
Terrance Simien, a leading light among the younger generation of zydeco musicians, is raising the genre's profile at this year's Grammy awards.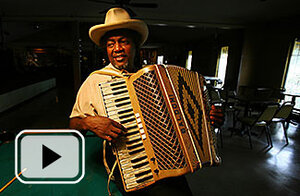 Melanie Stetson Freeman - staff
When Terrance Simien turned 19, the zydeco musician packed his instruments into a dilapidated van and, along with a bandmate, drove until he arrived at the Lone Star Cafe, on Fifth Avenue, in New York City. The joint was a "dive," he remembers. "Terrible. But it was a popular place to hear music, and we were there to get exposure."
They got it. In the midst of a raucous set of zydeco tunes, Mr. Simien looked out across the audience, and noticed some familiar faces: Paul Simon. Mick Jagger. Bob Dylan. Soon Keith Richards and Ron Wood jumped up on stage, for a jam. "It was surreal, man," Simien grins. "It was a surreal experience. In some ways, it still is."
Despite the occasional foray outside Louisiana, zydeco's roots are deepest in Lafayette, a Southern town perched on the Vermilion River, 130 miles west of New Orleans. Driven by a bustle of accordion and washboard – and soaring French vocals – the folk genre was born here, and perfected by generations of Creole and Cajun musicians.
---