Percussionists drum up interest among orchestra fans
A few composers are seeing new possibilities for percussion concertos. At least four such pieces are scheduled in the US over the next month.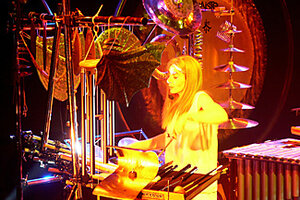 courtesy of James Wilson/eg images
Theatricality is a basic aim of John Corigliano's music. He once wrote a flute concerto inspired by the Pied Piper legend in which the flutist leads a chorus of children off the stage, and a violin concerto based on the film "The Red Violin." But a request a few years ago for a percussion concerto left him stumped. "All I could see were problems," says the Pulitzer Prize winner.
Corigliano says that while he loves to feature the percussion section in his symphonies, he feels that percussion concertos sound "like orchestral pieces with an extra-large percussion section." The soloist is incapable of playing a real melody and his or her identity is lost amid the myriad bangs, crashes, and splashes of the percussion arsenal.
Nevertheless, a consortium of six orchestras had commissioned the composer to write a piece for Evelyn Glennie, the formidable Scottish percussionist. After considering his options, Corigliano decided to focus on melodic instruments such as the vibraphone and chimes, and an orchestra pared down to strings alone.
Glennie will première the concerto, called "TriplePlay," with the Pittsburgh Symphony on Feb. 21. It is one of four – count 'em, four – major percussion concertos being performed in the United States over the next month. The others are by Jennifer Higdon, Steven Mackey, and Kevin Puts, all highly respected composers who have come to the medium quite recently.
---