Tired of 'Grease' and 'Phantom of the Opera'? So is L.A.
In Southern California, an ambitious Festival of New American Musicals aims to generate new great works to replace the constantly recycled old ones.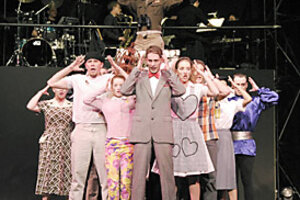 From Santa Barbara to San Diego, Southern California is alive with the sound of new music as it prepares to host the first of what organizers hope will be an annual "Festival of New American Musicals" in May.
Venues ranging from the tiny, 45-seat Chance Theater in Anaheim to the 2,265-seat Walt Disney Concert Hall in downtown Los Angeles are rehearsing projects such as "Norman's Ark," an epic with a cast of 300 based on the floods of recent years, and "The Brain from Planet X," a 1950s retro-sci-fi spoof. [Editor's note: The original version of the story mischaracterized "Norman's Ark" as an opera.]
This explosion of creativity is the idea of co-executive producers Marcia Seligson and Bob Klein, who see the nearly nine-week-long event as both a celebration of the vitality of current American musical theater, as well as a warning about recycling classic productions to diminishing artistic returns.
For Ms. Seligson, the idea came on the heels of a 10 year stint at the helm of "Reprise! Broadway's Best," a Los Angeles revival showcase devoted to presenting rarely seen, but important, musical theater.
---