Crossover duo Hilary Hahn and Josh Ritter make classical rock
She's a concert violinist; he's a folk rocker. Together they're blending genres on a US tour.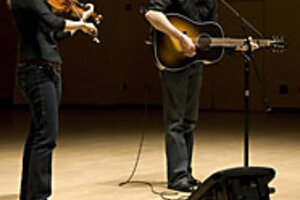 Glenn Ross
In a grainy YouTube video shot from the rear of a music club, Hilary Hahn, the Grammy-winning classical violinist, is in the midst of a rock jam, fiddling furiously as she shares the stage with the Texas band called ...And You Will Know Us by the Trail of Dead. As the song reaches its peak, Hahn, clad in black jeans and T-shirt, moves to center stage and kneels down to strike a classic rocker pose with her electric violin as the crowd cheers.
The moment is uncharacteristic, at least to anyone familiar with the more prim evening-gown images featured on Hahn's album covers and publicity shots. It's also part of a growing series of sideline projects that the 28-year-old violinist has forged with the indie-rock community.
In recent years she has performed alongside singer-songwriters Josh Ritter and Tom Brosseau and been featured in James Newton Howard's folk-inspired soundtrack to the 2004 film "The Village." Hahn believes these projects allow her to keep fresh as a musician, exploring the now-bygone classical musician's art of improvisation while gathering new ideas that she brings back to her classical performances.
"I feel like I learn the most when I go into someone's strength and try to survive in that context," says Hahn, who has been playing with orchestras since she was 12. "That's really when you learn. You learn a lot about yourself as a musician and you learn to think differently as a musician."
---