Zooey Deschanel has another day job: singer
The actress and M. Ward have formed a duo called She & Him that emulates the feel of 1960s music. Just don't call it a vanity project.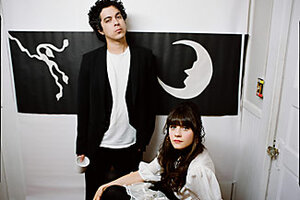 Courtesy of autumn dewilde
Actress Zooey Deschanel is resigned to reading factual errors about herself on the Web. But there's a particular claim that rankles: one that she believes calls into question her taste. According to the Internet Movie Database (imdb.com), Journey's "Don't Stop Believing" is one of her favorite songs.
"That's not true, I never said that," she demurs in a phone interview. "I've heard that before, and people just can write whatever they want."
You won't find any trace of that Journey sound – adult-oriented rock created by men with Pamela Ewing hair and holster-tight jeans – on the album that Deschanel has just made with songwriter Matt "M." Ward under the band name She & Him. But the star – whose lemur eyes have been used to convey wonderment, surprise, and knowing irony in movies such as "Elf," "The Hitchhiker's Guide to the Galaxy," and "Almost Famous" – has dipped into her "eclectic" record collection for inspiration. The duo's debut, "Volume One," exudes a love of Patsy Cline, Peggy Lee, and girl groups with names ending in "elles" or "ettes," like The Shirelles and the Ronettes. Overall, the album has a 1960s, patchouli-scented vibe.
---