Theater: Many faces of Macbeth
Shakespeare's 'Scottish Play' meets an array of modern interpretations.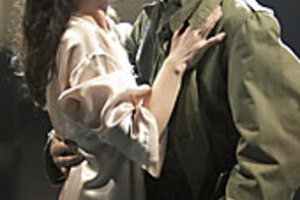 courtesy manuel harlan/lyceum theater
Despite its timelessness, Shakespeare's "Macbeth" has proven difficult to precisely date. Scholars disagree, but it's presumed that the play was written between 1603 and 1606. This year, however, a slew of innovative new stagings of "the Scottish Play," each with wildly different visions of the piece – one turns the famous witches into male monsters, one depicts them as ghostly nurses, another does away with them altogether – are proving that "Macbeth" is easier to update.
The most acclaimed and talked-about "Macbeth" of the past year has been Rupert Goold's version, starring Patrick Stewart. This production started at the Chichester Festival in England last summer and has played to sold-out crowds in London and New York. (It just opened on Broadway, where it runs through May 24.)
Mr. Goold, who previously plopped Shakespeare's "The Tem­pest" into the North Atlantic around the time of the Titanic, updates the action of "Macbeth" to the 20th century and sets it in a Scotland that appears to have fallen behind the Iron Curtain.
The young director portrays Macbeth's murderous rise and rule as Stalinesque – complete with Soviet-era uniforms. Goold says that he started out thinking about politics in the era in which the play was written. The gunpowder plot of 1605 and Robert Cecil (Elizabeth I's spymaster) led him to John Le Carré and the succession of power at the Kremlin in the 1980s.
---