Behind this month's staging of a 'lost' Shakespeare play
'Cardenio,' a seldom-staged work attributed by some to the Bard, opens May 10 in Cambridge, Mass.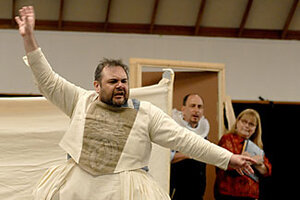 mark thomson
Playwright Charles L. Mee remembers the phone call. A Harvard scholar, Stephen Greenblatt, had been awarded a $1.5 million grant from the Andrew W. Mellon Foundation and wanted to use the funds to explore how a dramatist crafts a play. Professor Greenblatt had chosen to observe Mr. Mee at work, noting that Mee's cut-and-paste methods of "resituating and appropriating" materials reminded him of William Shakespeare's manner of writing.
"I'm the biggest thief," says Mee, who was honored this past year with the staging of an entire season of his plays at New York's Signature Theatre. He recalls telling Greenblatt that the project wouldn't be fun unless the pair wrote a play together – and then asking Greenblatt if he knew of any lost plays by Shakespeare.
"His answer?" says Mee, " 'Oh yes: 'Cardenio.' "
The duo's take on that play – a reconstruction of a work attributed by some to William Shakespeare and John Fletcher – opens May 10 at the American Repertory Theatre, in Cambridge, Mass.
---