The last 'Parandero'
In Belize, musician Paul Nabor preserves an indigenous sound – and awaits a successor.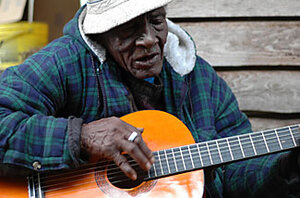 Irwin loy
Paul Nabor sits huddled against an unseasonable chill outside his simple wood and thatched roof home. Every one of his 80 years seems etched on the face of this man, among the last in a line of artists dedicated to an indigenous musical form.
He painstakingly tunes his guitar – a recent purchase from Los Angeles, he notes proudly. From Mr. Nabor's lips fall words he can't always enunciate clearly.
When he sings his old melodies it becomes clear this is the same vivacious man who, as a teenager, kicked against the sea to right an overturned rowboat, then jumped in and paddled back, soaked – but with a story.
"Salva Vida," Na­­bor says, laughing. "That's the name of the song. Because my dory [was] named Salva Vida."
It was the first song Nabor composed; a ballad, called a paranda. There would be countless more. Most, he says, were forgotten with time. This musical storyteller, the one they call the parandero, didn't step into a recording studio until he was almost 70.
Nabor begins to strum his guitar. Out pour the minor keys of a Spanish ballad. Between chords his palm beats against the body of the guitar in an African rhythm. It is a rich blend, mirroring Nabor's people, the Garifuna of coastal Belize, Guatemala, Honduras, and Nicaragua.
---