CD reviews: Scarlett Johansson, Sonny Landreth, Curt Smith
An actress's not-quite-starring role, gourmet guitar, and an '80s icon's return.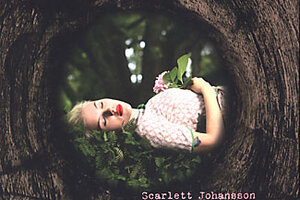 Scarlett Johansson – Anywhere I Lay My Head
Having a great voice isn't necessarily a prerequisite for an album of Tom Waits covers. But the voice had better be expressive. Waits's growling, world-weary vocal delivery always accentuates his greatest strength: his lyrics. Scarlett Johansson doesn't possess black-belt vocal chops – she's shown up by backing vocalist David Bowie on two tracks – and the actress's line readings are curiously emotionless. The Hitchcockian blonde just doesn't convince as a Beat-poet barfly. (One exception: The 23-year-old's inspired take on "I Don't Want to Grow Up," its catchy disco rendering galaxies away from the original or the Ramones version.) The album really belongs to producer David Andrew Sitek (from TV on the Radio) who recognizes that Johansson's deep, languorous voice is most effective when utilized as just one of the many instruments in the mix. Music boxes, mandolins, jingle bells, kalimba, and Tibetan bowls all contribute to the architecture of Sitek's sonic soundscapes. It's all very cinematic – just don't expect Johansson to play the starring role, even if her name is on the marquee. – Stephen Humphries
Curt Smith – Halfway, Pleased
---
Follow Stories Like This
Get the Monitor stories you care about delivered to your inbox.