A Chinese star's rare rise in Western opera
Hao Jiang Tian's hard upbringing in the Cultural Revolution helped him find his voice.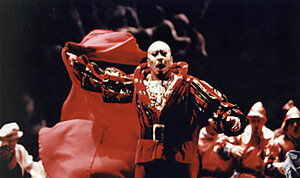 Courtesy of arnaldo colombaroli
In the past two decades, many musicians have emerged from the ashes of China's Cultural Revolution to reach the top ranks of classical piano, violin, or composition. Yet few opera singers have enjoyed comparable success, making the tale of Hao Jiang Tian, a bass who performs regularly at New York's Metropolitan Opera, especially remarkable.
Mr. Tian grew up in Beijing, the son of musicians who were sent off to the countryside for "reeducation" at the onset of Mao's Cultural Revolution. Tian was 15. He watched as his piano teacher was carted off to prison and was ordered to smash the family's classical record collection. While living alone with his younger sister he discovered his talent for singing, and would sneak away from his state-assigned factory job, using bathroom and smoke breaks to practice his scales.
When Beijing's Central Conservatory of Music reopened in 1976, Tian was one of 17 singers to gain admission (600 applied). In 1983, he won a scholarship to study voice at the University of Denver; eight years later he made his debut at the Metropolitan Opera, singing alongside Plácido Domingo (to hear Tian on stage, go to www.tianhaojiang.com).
Tian's colorful childhood and rise through the operatic ranks are chronicled in a new memoir, "Along the Roaring River: My Wild Ride from Mao to the Met" (with Lois B. Morris). He recently took time out between performances at the Met to talk with the Monitor.
Classical music in China has exploded in the 25 years since you left. How different does it seem now to you?
---