Reinventing rumba, Catalan style
Barcelona-based bands wrap the traditional Spanish gypsy music into urban rhythms in an ever-evolving new fusion.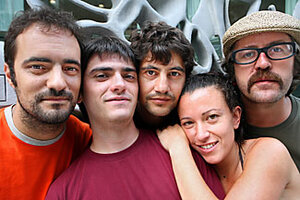 MELANIE STETSON FREEMAN – STAFF
Sporadic "Olés!" erupted from the boisterous audience at Lincoln Center's outdoor stage one recent summer night. Ten Spanish musicians rapidly thumped their instruments, sang, and rhythmically clapped their hands while Pere Pubill Calaf, better known as Peret, the legendary Catalan gypsy singer, dazzled the New York crowd. A half century of performing had not dulled his ability to sing, play guitar, and move anyone within earshot to dance – the main objective of rumba Catalana.
In recent years this traditional party music that was born in the gypsy ghettos of Barcelona has been fused or remixed with modern, urban musical forms such as hip hop, rap, electronica, as well as the old staples of rock, reggae, blues, salsa, and cumbia.
The most internationally recognized young band out of Barcelona might be the hip hop flamenco group, Ojos de Brujo (Eyes of the Wizard). Their guitarist, Ramon Giménez, is a Catalan gypsy who expertly strums and bangs out rumba Catalana along with other rumbas, to meld with the group's rap, reggae, electric sound.
"The percussive nature of rumba Catalana lends itself to pop and rock music," says Tom Pryor, editor of National Geographic's world music website. "For a long time, Peret, who played on TV, was considered kind of corny but now these kids see he's cool. I think these younger Catalan groups want to assert Barcelona's musical identity and Peret is part of that."
---