Goodbye Raffi, hello hipster!
Kid's music gets a rock 'n' roll makeover that soothes adults.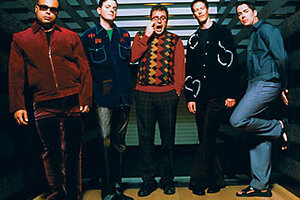 Courtesy of Desperation Records
Imagine rocking your baby to sleep to the sounds of sweet, melodic renditions of U2's "Sunday Bloody Sunday" or rapper Kanye West's "Gold Digger," plunked on a glockenspiel.
Parents who once rocked their little ones to the dreamy "Twinkle, twinkle little star" are changing up baby's bedtime listening selection. And Rockabye Baby! record label, whose 24 albums offer lullaby renditions of popular rock band tunes, is on the leading edge of that trend.
It all started, says Rockabye vice president Lisa Roth, when she went shopping for a baby-shower gift only to be disappointed with the selection of music. She decided to fill the gap herself. "We wanted a product that parents could enjoy and feel comfortable sharing with their little ones – something that was entertaining to listen to for an adult and soothing for a baby," Ms. Roth says.
Her idea met a need. In a market once dominated by Barney anthems and ABCs, there is a flood of new products getting the chic rock 'n' roll makeover.
Independent record labels and marketers are tapping into the children's music market by appealing to adults, prompting some parents to say goodbye to Raffi and wave hello to hip, trendy independent kid's music or "kindie."
Kindie is bridging the gap between Generation Xers and their young ones, allowing both parent and child to share a musical experience where parents won't be tempted to rip their hair out after listening to "The ABCs" ten times on repeat.
"[Children's] music has grown tremendously in the last six to seven years," says Craig Balsam, co-owner of Razor & Tie Entertainment and cocreator of the Kidz Bop series. "Certainly, Disney has become very aggressive as has Nickelodeon because they realize there's an opportunity."
---