Noteworthy CD releases
Metallica, The Verve, and David Byrne and Brian Eno regroup for three new albums that reprise some old themes and play with some new.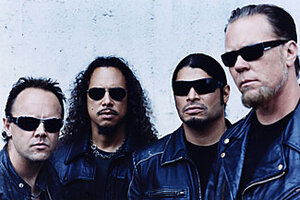 Courtesy of Warner Bros. Records
Metallica: 'Death Magnetic'
In a 2002 song called "The Sound of Muzak," the band Porcupine Tree penned the following pithy observation: "The music of rebellion makes you wanna rage/ but it's made by millionaires who are nearly twice your age." I couldn't help but recall that line while listening to Metallica's "Death Magnetic" (Warner Bros.), the band's first record in five years. Shouldn't these 40-something family men be releasing Christmas albums or all-star duets of jazz standards at this stage of their career? Thankfully, no.
That shouldn't come as any surprise to anyone who saw the 2004 documentary "Some Kind of Monster," an unflinching look at the intraband conflict that culminated with singer James Hetfield entering rehab. Metallica's Teflon-tough image was irreparably crumpled by confessional scenes with a cardigan-wearing counselor. Well, that and the footage of Hetfield attending his daughter's ballet class.
Having endured such a painful process of interpersonal reconciliation, one might imagine Hetfield would bare his soul on these new songs. Unfortunately, "Death Magnetic" betrays no such angst, though there's plenty of anger in the generic rants about battling oppression.
---