The changing face of Chicago blues
Foreign-born players and whites pick up the slack creating a global appeal and expanded songbook.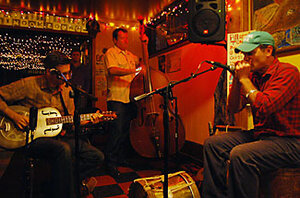 JASMINE SCOTT/SPECIAL TO THE CHRISTIAN SCIENCE MONITOR
Billy Branch steps off the stage and into the crowd, leaving his band to chug through a 12-bar blues. With a harmonica pressed to his lips, Branch sends light, flirty chirps to a woman, just inches from her face. For a single moment, the hundred or so people at Rosa's Lounge on Chicago's West Side fall silent.
The woman slips into the groove and joins Branch's musical conversation, and everyone around follows her cue.
Branch barks his biography – "I was born in the North, but my heart is in the South!" – and the band guns it. His heels spin to join them.
Here, on a Saturday night in October, it is a familiar conquest: Targeting lips to hips is what makes Chicago blues so enduring. But movement of a different sort, through geography and generation, is what also makes it deceptively complex.
That journey is threatening to jump the track. The music is largely silent in the Chicago neighborhoods where it originated, due to a shuttered club scene that moved audiences to the North Side, near the friendlier confines of Wrigley Field. But more alarming is the increased passing in recent years of aged blues luminaries, an inevitable loss of stories and techniques that connect the music to its fundamental roots.
Today, the Chicago blues scene is in stark transition. Younger blacks are failing to see the music as anything but a relic, leaving an entire tradition largely up for adoption by foreign-born players traveling halfway around the world to learn from the source. Their enthusiasm is helping move the blues from isolated neighborhoods to the global stage, evidenced by Chicago bands that very recently have come to resemble a United Nations portfolio.
---