Music festivals unswayed by slack economy
Despite Langerado's cancellation last week, festival organizers remain bullish.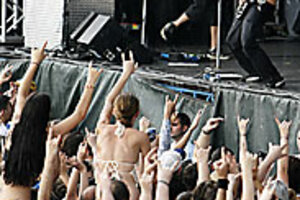 mike brown/AP
IN YET ANOTHER hard knock to the hobbled music industry, organizers last week announced they would cancel Langerado, the popular multistage Florida festival. Ethan Schwartz, the founder of Langerado, issued a statement to the media blaming "sluggish" ticket sales and the slumping economy, although critics faulted Mr. Schwartz's decision to move the event from a sprawling reservation in the Everglades to Miami, where parking and lodging are at a premium.
Long a staple in Europe, the music festival has gradually become a vital part of the concert culture here. Lollapalooza, Bonnaroo, and Coachella, among the most profitable festivals, now draw tens of thousands of fans, each paying upwards of $200 for a three-day pass. In recent years, younger and scrappier events such as All Points West in New Jersey, the Pitchfork Festival in Chicago, and the Mile High Festival in Colorado, have also attracted capacity crowds.
---