Hip-hop's Arabic-language kin
Lebanese rap artists take genre back to its socially conscious roots in a society deeply divided.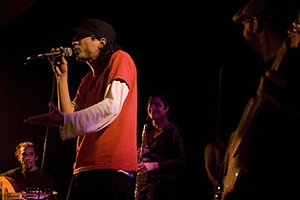 COURTESY OF ELENA V. GOMEZ
The unusual sound of a hip-hop beat and a funky bass line thudded out of a sandwich shop in a trendy Beirut neighborhood last summer. As one patron bobbed his head and a teenager with slicked-back hair flipped another piece of flatbread onto the sandwich shop's stove, a gravelly voice began rapping earnestly in Arabic.
"Who is that?" a passing foreigner asked. "What's he saying?"
"It's the rapper RGB," said the man in broken English. The song, he explained, was about the situation in Lebanon – the violence, the corruption, and the poverty.
RGB is one of several Beirut rappers whose discs are passed around among a visible segment of Lebanese youth. Unlike most of the flashy pop music that Lebanon exports to the rest of the Arab world – think singers like Haifa Wahabi and Nancy Ajram – these rappers' music usually comes with a social message. Their core fans in Beirut have adopted hip hop, from its music to its style of dress and graffiti, as their chosen mode of expression.
In Lebanon, foreign music is nothing new. The country's huge number of emigrants – far more people of Lebanese descent live outside the country than within – means that music from all over the world finds its way to Beirut, from salsa to samba, jazz, punk, and heavy metal.
But unlike much of Beirut's music scene that draws heavily on foreign influences, rappers like RGB are fiercely Lebanese in everything they do. They talk about personal experiences in which they see the same kinds of injustice, violence, and lack of forums for addressing social problems that were the impetus for early African-American rap groups with a political message, such as Public Enemy.
---