Diaghilev's ballet revolution still stepping out 100 years on
Entrepreneurial Russian changed the course of modern ballet with his inventive and talent-filled Ballets Russes.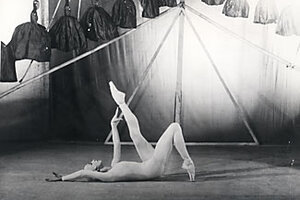 Courtesy of The Harvard Theatre Collection
Modern times for ballet began in Paris on May 19, 1909, when a troupe of dancers picked by impresario Serge Diaghilev from the Imperial theaters of St. Petersburg and Moscow, gave its opening performance. The Ballets Russes was the first company to present an evening of three short works rather than a full-length ballet.
Without official funding from the czar due to his enemies at court, Diaghilev became the first artistic director to depend on private donations and the first to establish a company continually on tour to audiences throughout Europe, the United States, and South America. And modern, indeed, were his struggles to keep the company together over a 20-year period, 1909-1929, through a world war and the Russian Revolution that closed borders as well as theaters.
This spring, events throughout the US and Europe are celebrating the centennial of Diaghilev's Ballets Russes (see schedule at end of story).
Beyond the survival mode of running a company that had no permanent, year-round home, Diaghilev developed artistic innovations that continue to influence dance companies to the present day.
---