Joyful bohemian
American-born folk singer Grace has tapped a noncynical streak in her French audience.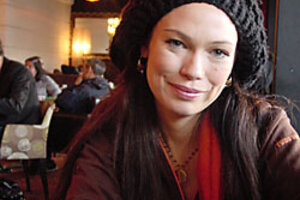 Robert Marquand / The Christian Science Monitor
Last fall at the Comptoir de L'Arc, a popular lunch cafe off the Champs-Élysées, one song played over and over in a loop. The wait staff requested it, though it was – of all things – in English. In jaunty tones, it rang out a message of hope, but also laid down a challenge for individuals to do better in the world: "Stand up for justice, oh let it be me...."
It was the debut song of a tall, slightly dramatic-looking artist who goes by the name of Grace, born in the United States to musicians (her father is folk singer Jonathan Edwards), but whose art draws from a life lived in Africa, Europe, India, and the Caribbean, as well as the States.
Grace taps those locales in what she calls the musical "momentum of being a traveler." Her debut hit, "Imagine One Day," asks the fortunate to walk in the shoes of the destitute – and it traveled to No. 1 on iTunes here last fall and is still in the Top 10 radio plays in France this spring.
But what may set the artist apart is an approach or attitude of affirmation and gratitude – underscored with loads of earnestness.
---