Summer of dance!
Merce, Mark Morris, Bill T. Jones, and some new faces bust out their moves for the festival circuit.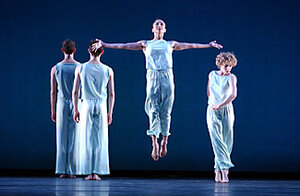 MMDG/Robbie Jack
The summer calendar has been marked for dancing since 1933 when American dance pioneer Ted Shawn and his company of Men Dancers gave their first performances at Jacob's Pillow, his 163-acre farm in Becket, Mass. A year later, in 1934, Martha Graham and Doris Humphrey brought their companies to Bennington College in Vermont for rural retreats. These summer residencies gave the choreographers a respite from the baking caverns of New York with spaces for rehearsals and classes.
As the world changed and new faces appeared, more festivals were started or expanded to include other art forms. This summer's travelers have multiple choices to see companies at work, while dance students can find many centers offering intensive courses. The American Dance Festival, now located at Duke University in Durham, N.C. (through July 25) is the largest in terms of student numbers, with an extensive performance schedule, while Jacob's Pillow, which runs through Aug. 29, presents an eclectic mix of forms, from ballet to ballroom, contemporary to the old-time styles of tap.
---