Conducting with electricity
Venezuelan maestro Gustavo Dudamel brings new energy to classical music.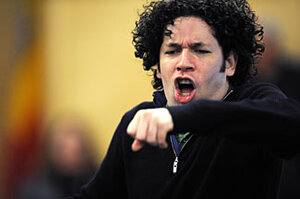 ROBYN BECK/AFP/NEWSCOM/FILE
As Venezuelan conducting wunderkind Gustavo Dudamel strolls the stage of his new professional home, here in the heart of downtown, he radiates an engaging charm, a mere hint of the dynamic charisma that has helped make him a superstar well beyond the honey-toned walls of the Walt Disney Concert Hall.
In a few short years, this 28-year-old, mop-haired maestro has shaken up the classical music world with his one-two punch of rock-star-level popularity and critically lauded turns with some of the most daunting international orchestras, including the Vienna Philharmonic, Amsterdam's Royal Concertgebouw, and the New York Philharmonic.
"It's a welcome jolt across the whole classical music world," says Jesse Rosen, vice president and managing director of the League of American Orchestras. "There are all kinds of great talents but his is urgent, immediate, and revelatory. It hits you over the head. People watch him perform and they are simply blown away."
---