'The Beatles Remastered.' Getting better all the time?
With improved sonics and sparkling-clean tracks, the 14 albums offer a chance to experience the fab four's recorded legacy.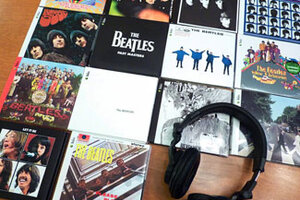 John Kehe/Staff
While most people spent their Labor Day weekend flipping burgers with friends or catching the last rays of summer sun at the beach, I sat at home for three days listening to 14 newly remastered Beatles albums. Call me crazy, but I'm sure I had the best time of all.
My assignment was to listen critically to the new CDs (which are available starting today), compare them with the previous CD versions released 22 years ago (at the dawn of digital technology) and report back on whether the new ones are better-sounding enough to pony up 260 greenbacks for the boxed set, or $19 for the individual CDs.
Well, I have listened to them all (in chronological order thank you very much), and the verdict is in. Ringo, a drum roll, if you please...
Ahem... after umpteen hours of careful scrutiny (including some involuntary singing along. OK, a lot of singing along), it is my considered judgment that true blue Beatles fans and collectors will find the improved sonics, sparkling-clean tracks, and enhanced separation achieved by the Abbey Road studio engineers and assorted experts (who spent the past four years poring over the original tapes) on these new CDs well worth the investment. I mean, we're talking Beatles here.
So what's so special/different/amazing/not-to-be-missed? For starters, the overall sound is very clear and virtually distortion-free. The lads' lead vocals are somewhat enhanced and background voices sound less blended together, so it's easier to single out the individual Beatles singing harmonies. Formerly buried acoustic guitars suddenly are more present, and sound percussive, woody, and more resonant. Electric guitars seem to ring out more viscerally.
None of the four Beatles could be called virtuoso instrumentalists, but the juiced-up presence and an almost palpable dimensionality amps up their live rock band élan. It's most evident on "With the Beatles," their fine second record, which bristles with raw rock energy on covers like "You Really Got a Hold on Me" and "Please Mr. Postman," as well as the white-hot Lennon/McCartney opener "It Won't Be Long."
---