Monsters of Folk: Making hits without the hype
Even in this age of iTunes and Rock band video games, the supergroup has found an audience and an album hit.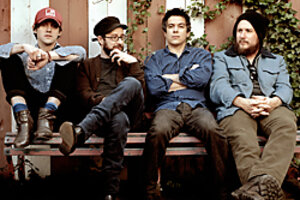 Jennifer Tzar
The Traveling Wilburys, the late 1980s supergroup that featured Bob Dylan, George Harrison, Tom Petty, and Jeff Lynne of ELO, set the blueprint for chummy band projects whose sum often happened to be as good, if not better, than their equal parts.
While it's an old concept that might seem passé in this age of iTunes and Rock Band video games, Monsters of Folk are giving it new life. The four-member group – which features solo songwriter-performer M. Ward, Jim James of My Morning Jacket, and Conor Oberst and Mike Mogis of Bright Eyes – represents the kind of project that often falls through the cracks these days because nothing about it – the music or the marketing – conforms to what is considered necessary to sell records.
---