Merit or mega-hits?
Have the most coveted music awards gone commercial? Domination by top 40 stars makes it look that way.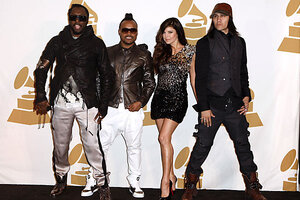 Matt Sayles/AP/File
The 52nd Annual Grammy Awards are a week early this year (a move to avoid competing with NBC Olympics coverage), but that is not the only change getting attention this awards season.
"This year's [list of] nominees for Album of the Year – Beyoncé, Black-Eyed Peas, Lady Gaga, Taylor Swift, and Dave Matthews – reads like a year-end Billboard Chart summary," writes former industry professional Robin Zaremski in an e-mail. She now teaches music business at Albright College in Reading, Pa.
The domination by Top 40 artists has led to grumbling among fans and critics alike that the Grammys have gone commercial, favoring artists who will draw ratings for the telecast and give a boost to record sales.
Alone among the televised music-awards ceremonies, the Grammys are peer-selected – by the 12,000 or so voting members of the National Academy of Recording Arts and Sciences (NARAS), which sponsors the awards and telecast. The goal and official position of the academy is that the nominees and winners are snapshots of the best in recorded music released during the previous qualification window, which this year ran from Oct. 1, 2008, to Aug. 31, 2009.
---