Richard Wagner: He broke the rules and inspired generations to come
The L.A. Wagner festival showcases a host of modern interpretations inspired by the German composer's work.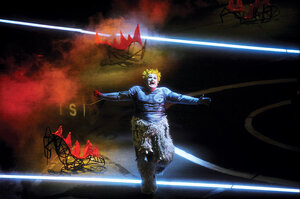 Monika Rittershaus/Los Angeles opera
Two hours into Richard Wagner's "Götterdämmerung" – the final of four operas known as "The Ring Cycle" – the first of two intermissions brings up the lights on a packed Dorothy Chandler Pavilion. Patrons pour into the sunny afternoon, stretching their legs and dissecting the vibrant, Cirque du Soleil-meets-Salvador Dali-style costumes and sets of this updated opera classic. A few steal guiltily to the parking garage below, but most remain for the full 5-1/2-hour show.
This ambitious tetralogy, refined over a nearly two-year production arc by the Los Angeles Opera, is the cornerstone of an even larger undertaking. That is a 10-week, citywide "Ring Festival, L.A.," a joint effort of more than 100 arts and community groups to examine, celebrate, and reimagine the music, artistic vision, and life of 19th-century composer Richard Wagner. In addition to three full "Ring Cycles" (all four operas performed within a week), events will range from country-and-western and hip-hop "Ring" productions to a new light-and-sound show set to Wagner scores, dozens of art exhibits, symposiums, lectures, and educational outreach through libraries and schools.
It is the largest cultural event in Los Angeles since the Olympic Arts Festival in 1984, and the first to offer up strictly local talent. But more important, it celebrates an artist whose contribution to Western culture has been profound and long-lasting, say musicians, scholars, and city officials – in spite of the controversies surrounding him, most notably a virulent anti-Semitism that made his music a favorite of the Nazis.
---