Broadway musicals: The new jukebox heroes
Broadway musicals that ground themselves in the songbook of a famous pop artist are energizing the Great White Way.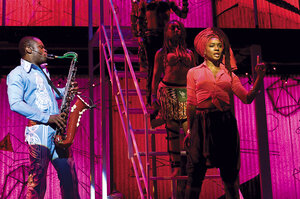 Monique Carboni
Don't look now, but the much-maligned "jukebox musical," a theatrical genre that critics and audiences had deemed as stale as month-old bread, is enjoying a remarkable resurgence on Broadway.
Also dubbed the "songbook musical," because it employs the back catalogue of a famous pop artist as its launching point, the genre is in the midst of a commercial and creative rebirth. For evidence, look no further than the raucous, snarly punk anthems of Green Day's "American Idiot," the smooth-vocal croonings of Frank Sinatra in Twyla Tharp's latest dance musical "Come Fly Away," the indelible hit songs of rock 'n' roll's greatest icons in "Million Dollar Quartet," or the propulsive sounds of legendary Afro-beat pioneer Fela Kuti in "Fela!"
Not only have critics (for the most part) and audiences embraced this season's lineup of jukebox shows, but so has the industry's top kingmaker, the Tony Awards, which air on June 13 at 8 p.m. Three of the four jukebox shows – "Fela!" "American Idiot," and "Million Dollar Quartet" – have been nominated for Best Musical. In total, the four shows have garnered 19 Tony nominations.
---