Band practice for refugees
Young Palestinians gain self-esteem – and find a welcome precision – in a camp-based bagpipe band in southern Lebanon.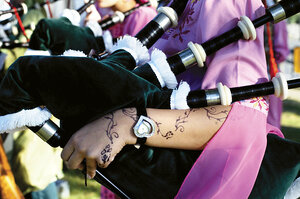 Newscom/File
It's 4 p.m. on a sweltering June Saturday at Bourj al-Shamali. That means it is time for bagpipe practice at this Palestinian refugee camp in southern Lebanon. Lined up two by two, 14 young men and women advance up the stage steps in the peach-colored community center's rehearsal room, the bleating of their bagpipes drowning out the muezzin call for afternoon prayers.
They march with sharp military precision, in marked contrast to the chaos and tumultuous unpredictability that life in the refugee camp brings.
The pipe and drum corps, named Guirab, teaches children as young as 8 not only music, but self-esteem. Since launching in 1996, Guirab has grown to 40 members. Under often unspeakably harsh living conditions, the budding musicians learn self-reliance, pride, and responsibility. Discipline is stressed – practice starts sharply at the top of the hour. No stragglers allowed.
The bagpipe band has played throughout much of Europe, including in Norway and a 17-city Italian tour. Guirab was the only Arab music group tapped to participate in France's Interceltic Festival of Lorient, a celebration of all things Celtic that draws more than 650,000 visitors each year. In October, they will return to Italy.
Guirab's mission is simple: to break down stereotypes through music by creating a bond that words often cannot. "If you make a speech, maybe people don't care who's talking, but the international language is the music," says Mahmoud Aljoma, who runs the social care and vocational training center that houses the bagpipe band.
---