The Big Easy bounces back with its own hip-hop beat
Dance-oriented bounce music, a hip-hop variant unique to New Orleans, is tapped by hitmakers.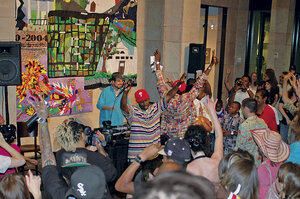 Courtesy of the Ogden Museum of Southern Art
New Orleans is known as the birthplace of jazz, a percolator of the blues, and where the early pioneers of rock 'n' roll recorded songs that have since crisscrossed continents, cultures, and generations.
All this music is still accessible on the streets where it was born – just stroll down Bourbon Street in the French Quarter, visit its many festivals throughout the year, or tune into WWOZ, the city's cherished community radio station, to hear how much.
Yet as much as the city thrives by looking backward, the music that has served as the greatest economic engine of its residents of the past 20 years is hip-hop. Bounce, a hip-hop variant that evolved from the city's housing projects, has produced some artists who – unlike their better-celebrated elders such as Allen Toussaint and the Neville Brothers – sell millions of albums and whose music is sampled and recycled by mainstream hitmakers, including Rihanna, Beyoncé, and Lil Wayne.
Helping shed light on bounce is "Where They At: New Orleans Hip-Hop and Bounce in Words and Pictures," a traveling multimedia exhibit and oral history project that examines the local hip-hop culture through the artists. But because any roots music is a product of the neighborhood, it also pays attention to the local clubs, housing projects, record stores, and recording studios that contributed to its evolution.
---