"Girl Talk" provokes copyright owners with free download of new album, 'All Day'
Musical artist and mashup DJ "Girl Talk" has posted his entire 'All Day' album online as a free download - provoking copyright owners for the fifth time.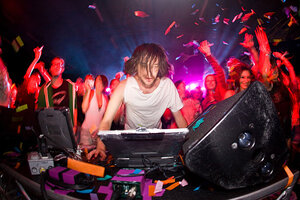 Newscom
The frenetic solo musical artist "Girl Talk" released his fifth album, 'All Day', Monday. As on previous albums, All Day uses unauthorized samples from an array of artists and genres, causing murmurs in the media industry about the legality of his work. The artist has said that copyright law stifles creativity and insists fair use laws protect his sampling practices.
DJ Gregg Gillis is the talent behind the musical mashup "group", Girl Talk. The Pittsburgh native started Girl Talk in 2006 using his laptop to splice and dice just a few seconds each of iconic and highly danceable songs to create brand new songs that people would recognize. After finishing his studies at Case Western Reserve University, Gillis worked as an engineer until quitting his day job to pursue his musical profession full time.
His last album, 'Feed the Animals', made headlines for its unique pay-what-you-want pricing structure. Fans could download the entire album for free, or they could pay what they felt like. If they paid $10 or more they got a physical CD. This and the unauthorized sampling of copyrighted songs had The New York Times Magazine calling his music "a lawsuit waiting to happen."
---