An unexpected turn at ballet
Boston Ballet's community outreach program, CityDance, gives a talented male athlete a life in the arts.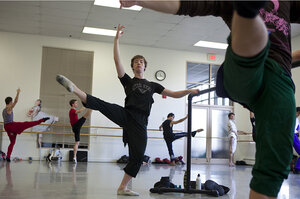 Melanie Stetson Freeman/Staff
Back when Isaac Akiba used to play dodgeball with other kids in his working-class Boston neighborhood, he never imagined one day entering a world of tutus and pink slippers – let alone smiling about it.
But in a story propelled by philanthropy and boyish persistence, Mr. Akiba has not only become a dancer, he's also cracked the top echelons of American ballet.
At the opening weekend of "The Nutcracker" ballet in Boston this year, Akiba was one of many faces beaming amid the soft shuffling of Clara's party dress, the flourish of Drosselmeyer's cape, and the commotion of the Mouse King fighting the heroic Nutcracker.
When he leapt onto the stage in Cossack dress for the iconic Russian dance – bursting with unaffected joy and making only fleeting compromises with gravity – the applause crescendoed to a volume normally reserved for the Nutcracker himself.
Akiba's precision, grace, and dynamic power, showcased by one of America's top ballet companies, are remarkable by any measure. But the fact that he was found almost by accident as a third-grader makes his arc of success unique.
In 1997, the Boston Ballet's community outreach program, CityDance, tapped him for a 10-week scholarship; last year, he became the first participant to join the ballet's prestigious company. He has already performed roles normally reserved for veterans.
"He has had a very unprecedented start," says Boston Ballet's artistic director, Mikko Nissinen.
---