El Sistema taps the power of classical music to help US children flourish
A Venezuelan poverty program brings its musical discipline to underprivileged youths in the United States.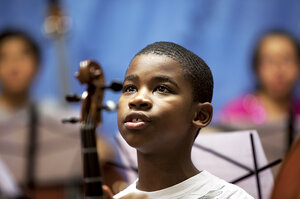 Melanie Stetson Freeman/Staff
In Venezuela, some 250,000 mostly poor children spend several hours each day playing classical music. But much more than learning Mozart or Beethoven happens. Lives are transformed as many of the students find their way out of poverty, stay in school longer, and begin careers.
The program, called El Sistema ("the system"), boasts a world-famous graduate in Gustavo Dudamel, the dynamic young conductor of the Los Angeles Philharmonic. And the program's signature performing group, the Simón Bolívar Youth Orchestra, has won ovations from sophisticated audiences at famed concert halls in places like Boston, New York, and London.
But can El Sistema, a bootstrap poverty program that receives government support in relatively poor Venezuela, work in the affluent, free-market United States, a nation where classical music has become an afterthought?
Mark Churchill passionately believes it can. The dean emeritus at the prestigious New England Conservatory (NEC) in Boston has founded El Sistema USA in an effort to bring the benefits of the original program to underprivileged American youths.
---