Profile: Bill T. Jones, a master of modern dance
After receiving Kennedy Center Honors, Bill T. Jones remembers his long career as a dancer and choreographer, and he discusses his future plans.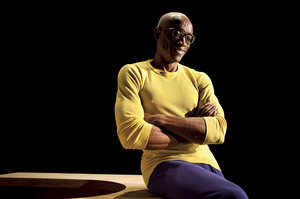 Melanie Stetson Freeman /Staff
Two men are dancing on stage, the small, tightly coiled white man darting around the 6-foot-1 black man who projects an elegant, riveting charisma. The year is 1981; they have been performing together for eight years. However it is still new that they are partnering each other in ways that men usually treat women – lifting each other, trading tender looks. Although there are established black companies in America by now, seldom are black dancers and white dancers seen side by side.
Bill T. Jones, the tall man, and Arnie Zane, his partner, talk out loud as they move, pushing another boundary. Zane recites a speech in Dutch, learned when he spent a period in Amsterdam. Jones recites the names of his 11 brothers and sisters.
Now, 30 years later, Jones is still speaking his mind, only this time as a trailblazer at the confluence of the avant-garde and commercial theater. You cannot miss his presence: His company will be performing in Arizona, California, North Carolina, Virginia, and New York this spring, while "FELA!" – his Broadway musical – starts its world tour in Lagos, Nigeria, in April and continues in London in the summer.
---