Ukulele: The little guitar that could
The tiny ukulele is back, with a new generation of pickers, crooners ­– even brooding rockers – plinking away and singing its praises.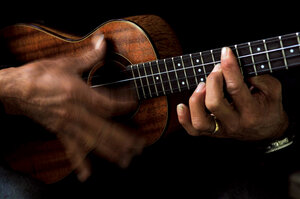 Newscom/File
Musical trends come and go, and only few return to stay.
Then there's the ukulele. We are now in what musicologists are calling the "third wave" of renewed appreciation for the tiny, four-stringed instrument that makes such a sweet, gentle sound. Ukulele sales are skyrocketing – on track to jump nearly 100 percent this year from the last, according to figures from the Lanikai brand, a division of Hohner Inc. – and the instrument is prominently featured on the pop charts and television commercials.
The instrument is not just a staple on college campuses. Groups dedicated to the instrument can also be found everywhere from senior centers to kiddie camps to local ukulele orchestras.
"We're in the infancy of this," says Drew Lewis, fretted division product manager at Hohner. "First we had the influencers. Now everybody is picking it up."
The first and second wave of ukulele popularity dates back to 1915, the year of the Panama Pacific International Exposition in San Francisco, which introduced Hawaiian culture to mainlanders. In subsequent years, the instrument became a staple of popular hits that came out of Tin Pan Alley during the Jazz Age. Jazz orchestras established the instrument as a mainstay of their sound, along with the lap steel guitar, another instrument the exposition popularized. Ukulele stars like Wendell Hall, the Hawaiian Quintet, the Duncan Sisters, and many others helped establish the instrument. The Depression helped usher the instrument into the home due to its cheap price. In time, an industry of instruction booklets and sheet music accompanied a creative renaissance for the instrument.
---