China: Ethnic minority music finds an advocate
Laurent Jeanneau roams the ethnic minority villages of China recording the 'unofficial' music.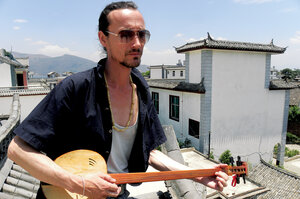 Mike Ives
For the past decade, Laurent Jeanneau has roamed the villages of Southwest China and Southeast Asia, microphones in hand, waiting for chances to record the songs of ethnic minority singers and musicians.
If you visit the French expatriate in Dali, the touristy city in China's Yunnan Province where he lives, he will sell you one of the 80-odd albums he has recorded in ethnic minority villages and self-produced on Kink Gong, his home-grown record label.
Government officials in China and Southeast Asia have "bastardized" traditional folk arts under the banner of promoting ethnic diversity, Mr. Jeanneau charges, and the albums he sells to tourists are "acts of resistance" to state-directed cultural paradigms.
"When I look for music, my rule is, 'Look for the less obvious,' " Jeanneau said in English on a recent afternoon in Dali. "The cliché is the tip of the iceberg. I want to go underwater."
Jeanneau's grass-roots recording project, though unknown to most music fans in China and beyond, illustrates some of the nuances that accompany and impede attempts to document folk arts in a region where millions of ethnic minority vil-lagers still sing and play ancient – or at least ancient-sounding – melodies.
The project is a race against time, Jeanneau says, because it is increasingly difficult to find older singers and musicians who know and perform the traditional songs they learned as children.
In China, scholars say, the ruling Communist Party promotes hyperstylized – you might say kitschy – versions of the folk arts traditionally practiced by the country's 55 designated ethnic minority groups, or "nationalities," as they are called in Chinese.
---