Beyond translation
'Chinglish,' a new play about China, deftly tackles tricky cultural terrain.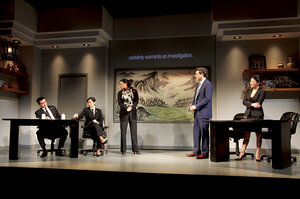 Michael McCabe
Over the years, "chinglish" – those merrily mangled Chinese-to-English translations found in China – have spawned a subculture. Books and websites showcase how in China, mundane English phrases are unwittingly transformed. For example, "Handicapped Rest­room" is changed to "Deformed Man Toilet"; "Keep Off the Grass" becomes "The Little Grass Is Sleeping. Please Don't Disturb It."
Now those mistranslations are center stage. In the new Broadway comedy "Chinglish," they serve as metaphor for the cultural complexities facing for-eigners in China as the global order shifts.
The play humorously tells the lost-in-translation tale of a Cleveland businessman trying to revive his fortunes in China. Playwright David Henry Hwang, a Tony winner and Pulitzer finalist, insightfully explores the blunders and shenanigans that occur across cultures and languages. The portrayal has even amused some tough critics: native Chinese and "China hands" – foreigners who have lived or worked in China.
Xinhua, China's official state news agency, reviewed the play when it premièred this summer at the Goodman Theatre in Chicago. Although "Chinglish" spotlights corruption, nepotism, and other scandalous behavior, the review glowed. It called Mr. Hwang "one of the most extraordinary writers now working in American theater."
China Daily, a state-owned English-language newspaper, was also positive about "Chinglish" after its Broadway debut late last month. It works "because of the light-hearted authenticity Hwang has brought to the play," the revew read.
---