Theater for the 99%
Bucking a trend, new Gehry-designed Signature Theatre Center is selling cheap seats to top-class plays.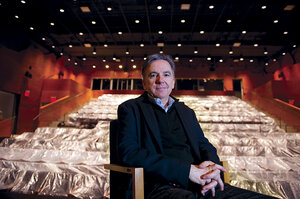 Ann Hermes/Staff
When the lights go down at the Signature Theatre Center Jan. 31, the curtain won't just rise on a performance of Athol Fugard's classic play "Blood Knot." It will also reveal a new era for a small-scale theater with large-scale ambitions.
After 20 years in limited space, this season heralds "an enormous threshold moment," says artistic director James Houghton. It marks the debut of the Signature Theatre Company's new home, a Frank Gehry-designed complex sprawling over a city block on West 42nd Street. "Now we have a home that serves the breadth of our deep vision," Mr. Houghton says, "one place where we can do it all – encourage and honor writers and build bodies of work."
The company, founded by Houghton in 1991, first performed in a tiny 79-seat space, and occupies a unique niche among off-Broadway, nonprofit theaters. "There's no other theater quite like it," says Emily Mann, a director, playwright, and artistic director of Princeton University's McCarter Theatre Center. Its mission is to devote each season to work by a single, living playwright rather than, as Pulitzer Prize-winning playwright Tony Kushner says, "immediately lunging for whatever's new and shiny."
Houghton's mantra is "the thea-ter begins with the written word," and his company spotlights a playwright's entire oeuvre. Last season, which presented both old and new work by Mr. Kushner, "was a stunning experience," the playwright says. "It's like you're taking a look at your life's work ... literally like a time trip."
---