After the revolution, arts bloom in Tunisia
As Tunisia's 'Jasmine Revolution' turns one, musicians find new venues, funds, and teachers -- along with official support.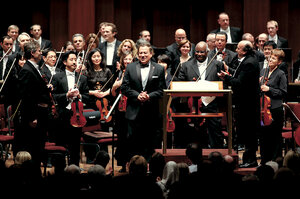 Courtesy of Sam Koushan/World Leadership Forum
If Tunisia's "Jasmine Revolution" had been a feature film, Jaloul Ayed might have composed the soundtrack. The renowned classical composer's symphony "Hannibal de Barca" – performed last month at the Kennedy Center in Washington, D.C., on the first anniversary of the revolution – was a highlight of an inspired year for Tunisian culture and an illustration of how political revolution can usher in artistic changes.
With increased freedom of expression, every art form in the North African country has seen a profusion of new creativity, from contemporary art and theater to popular music and rap. There's even been a small but concerted effort to promote Western classical music.
Even before the January 2011 uprising, non-profits and visiting performers were seen as resources and opportunities for young Tunisian classical musicians. But now, interim government officials and financiers are reinvigorating support for national music institutions.
Under deposed President Zine El Abidine Ben Ali, Tunisia's orchestra and conservatories resorted to foreign collaborations to sustain much of their classical music programming, says Saifallah Ben Abderrazak, the director of Tunisia's Higher Institute of Music. The Ben Ali regime's only attempt to encourage Western-style performing arts – initiating a state-funded "City of Culture" complex in 2002 – didn't garner support from Tunisian artists and was quickly mired in corruption.
---