Beyond Adele
A look at some other British soul sisters whose vocal talents deserve a listen.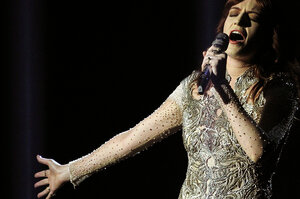 Joel Ryan/AP
When the ridiculously talented Adele absorbed all the light in the universe this past year, it was as if she were the only female singer/songwriter in the world, mesmerizing us with her riveting, careworn voice, revealing songs, and dramatic personal story.
In interviews following her record-shattering Grammy night, the London songbird indicated she might want to take some time off to rest her multiplatinum voice and reassess career plans. So while Adele cedes the spotlight, let us take this opportunity to showcase some other British soul sisters whose vocal talents deserve a listen. We're not claiming any of these women exhibit Adele's rare combination of vocal prowess, vulnerability, and radio hooks. But there are some compelling female singers out there with impressive gifts to offer.
Britain is a prolific incubator of "Dusty's Daughters" – girls that grew up in the afterglow of blue-eyed soul icon Dusty Springfield, and later, Amy Winehouse. Here is a shortlist of vocal stars, burning brightly or just heating up.
Corinne Bailey Rae burst on the scene in 2005 with a charming single "Like a Star," followed by the worldwide smash "Put Your Records On" from her debut album. Following the death of her husband, Rae's second album, "The Sea," was much darker and introspective. But her Billie Holiday meets Bambi vocal stylings always captivate, and a highly anticipated new record is on its way.
---