Doc Watson, innovative guitarist and 'positive icon' for Appalachian region
Doc Watson, who passed on Tuesday, developed a signature style of guitar picking, elevating the instrument to frontline status and influencing guitarists of every genre.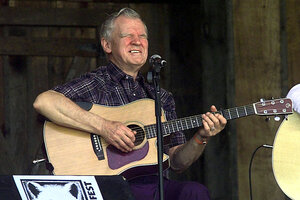 Alan Marler/AP/File
Guitarist Doc Watson, who passed away Tuesday, was widely considered a true American original who deeply influenced every guitarist – folk, jazz, or rock – in the past 50 years. He was lauded not just for his technical skill but his understanding of Appalachian culture and for his model behavior as a humble man.
Nineteen-year-old Arthel Watson got his nickname at a 1942 concert when the emcee couldn't pronounce his name and a girl in the audience shouted, "Call him Doc!"
Generations of admirers have been calling him names ever since: "Guitar Master," "Godfather of the Guitar," and many more.
After seven of his 60 albums won Grammy awards, he was awarded an eighth as a lifetime achievement award in 2004.
"There may not be a serious, committed baby boomer alive who didn't at some point in his or her youth try to spend a few minutes at least trying to learn to pick a guitar like Doc Watson," President Clinton said in 1997 when presenting Mr. Watson with the National Medal of the Arts.
He was the envy of other top banjo and guitar pickers from Earl Scruggs to Lester Flatt. Folk guitarists from Stephen Stills to Joe Walsh, rockers such as Eric Clapton, Jimi Hendrix, and Duane Allman, and jazz/fusion great Stanley Jordan have all praised him to the skies.
---