'Once' more, as best musical?
When the Tonys roll around, don't count out the heartrending show 'Once.'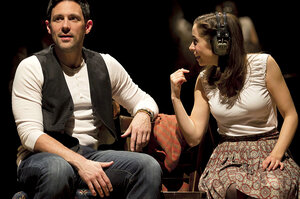 Joan Marcus/AP
At this point, nobody should doubt "Once," the scrappy Little Movie Musical That Could.
Shot in just 17 days on a budget of $150,000, the charming Irish indie captured the audience award at Sundance, the 2008 Academy Award for best song ("Falling Slowly"), and the hearts of moviegoers everywhere, raking in more than $20 million in sales.
Yet "Once" continues to defy expectations – and find new life. A Broadway stage adaptation of the film has received rave reviews, pocketed the most Tony nominations of any show this season (11), and is now the unlikely leading contender to capture the best musical prize at the Tony Awards June 10 on CBS at 8 p.m. EDT.
Revolving around a Dublin street busker and a feisty Czech immigrant pianist who team up to make a demo recording while each grapple with troubled relationships, "Once" is not your typical meet-cute story. Instead, it tells the bittersweet tale of two wayward souls connecting over a broken vacuum cleaner, soul-baring folk-pop, and heartsick romantic yearnings. Former real-life couple Glen Hansard and Marketa Irglova not only wrote the swelling songs but brought the main characters to life on screen. (Steve Kazee and Cristin Milioti play the parts on stage.)
---