Mariah Carey sings track for the Disney film 'Oz the Great and Powerful'
Mariah Carey was chosen to perform the song 'Almost Home' for the 'Oz the Great and Powerful' soundtrack, and her performance of it on 'American Idol' is only one of the ways Disney is promoting the new film. Mariah Carey is currently serving as a judge on the Fox reality juggernaut 'American Idol.'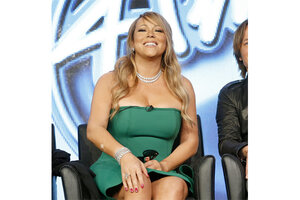 Todd Williamson/Invision/AP
A bright blue hot-air balloon whisked James Franco to the premiere of his new Walt Disney Co movie, "Oz the Great and Powerful," delivering the star to Hollywood Boulevard where he walked an emerald green carpet with a yellow-brick road into the El Capitan Theatre.
The high-flying, and headline-grabbing, entrance last month was the signature event of a Disney marketing blitz on major TV broadcasts, social media and at Disney parks to stoke interest in "Oz," a $200 million production that is its first release of an expensive 2013 film slate. It debuts in theaters March 8.
The 3D "Oz" also debuts the first full year of Disney CEO Bob Iger's strategy of investing in films with hefty budgets that the media giant can turn into "brands" that bring in box office receipts, spawn movie sequels, drive toy sales and inspire theme-park rides.
After "Oz" lands in theaters, the Burbank-based company scheduled three movies with budgets of more than $185 million for release through July 3, which is when it expects to unveil the $225 million film "The Lone Ranger," starring Johnny Depp as the masked man's sidekick Tonto.
"If anyone else tried it, it would be a very risky strategy," said Peter Sealey, former head of marketing at Columbia Pictures and founder of The Sausalito Group.
---