Making 'bad' notes better
Auto-tune software is removing singers' mistakes, but what will become of music's personality if all flaws are erased?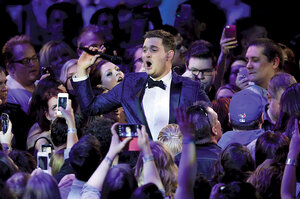 Todd Korol/Reuters
Have you noticed how unnaturally perfect all the singers are on "Glee"? Or "Smash"? No one ever seems to sing even slightly off-key. Is there a secret lab somewhere developing a superior strain of singers, genetically incapable of wandering off-pitch?
Close, but not quite. What you are hearing is the work of advanced computer software. The official brand names are Antares AVP and TC Helicon VoiceWorks (or TC Helicon VoiceWorksPlus), but the technique is collectively known in the sound business as "auto-tune." And the pitch-correcting software heard on nearly every contemporary vocal recording is causing a heated debate among sound engineers, producers, and recording artists.
Record producers helped create the comeback hit "Believe" for Cher in 1998 with an aggressive application of the then-brand-new auto-tune, creating a somewhat robotic-sounding vocal that captivated record buyers and returned the star to the limelight for one last time. The pure novelty of the sound transformed a fairly forgettable pop song into a sensation.
How does it work? In the recording studio, the vocal performance is sent from the microphone through the auto-tune plug-in, which "bends" the pitch of the sung notes to the nearest semitone, up or down. When applied aggressively, it makes a synthetic distortion, rendering each note perfectly. Many performers in the hip-hop and rap world like the aggressive approach. Artists such as Kanye West and T-Pain, who don't really "sing" anyway, claim that auto-tune enhances their musicality and projects emotion.
---