Miley Cyrus performs in Las Vegas at iHeartRadio music festival
Miley Cyrus performed her hits 'We Can't Stop' and 'Wrecking Ball' at the iHeartRadio festival in Las Vegas. Miley Cyrus thanked her fans during her performance, saying of her number one Billboard Hot 100 hit, 'I couldn't have done it without all you guys.'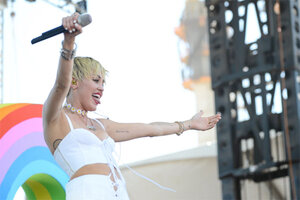 Al Powers/Powers Imagery/Invision/AP
Miley Cyrus can't stop.
The pop singer was a crowd favorite at the iHeartRadio music festival day event Saturday in Las Vegas. Before she hit the stage, the crowd of a few hundred chanted: "Miley! Miley! Miley!"
Her four-song set opened with the anthemic "We Can't Stop," where people onstage were dressed in flower, mushroom and rainbow costumes. She followed the colorful performance with "Party In the USA."
But it was her emotional rendition of "Wrecking Ball" that was her set's highlight. Cyrus' mascara was running as she left the stage. She thanked the audience for helping the song top the Billboard Hot 100 chart this week.
"I couldn't have done it without all you guys," she said.
Cyrus broke a record with the debut of the song's provocative video. It became the fastest music video to reach 100 million views on VEVO.
The singer said she knows "things I'm doing that's getting me into trouble and it's just me doing what my heart and soul is telling me what to do."
Everything she's done is "inspired by the music," she said.
---