A handbook for Muslim teens
Being a young Muslim in the US got much tougher after 9/11, so a brother-sister team came up with a book to help peers in their faith.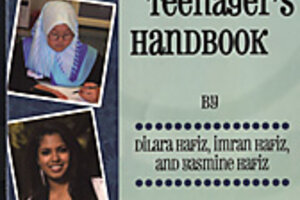 Growing up in today's culture can be exciting, confusing, and chock-full of challenges.
For young American Muslims, navigating adolescence has proven especially daunting since the events of Sept. 11, 2001. They must sort out not only who they are individually but also how they fit into a society that knows little about them but holds a host of impressions.
"I went to bed on Sept. 10th an American, and on Sept. 11th, I became a Muslim in people's minds," says Imran Hafiz, a high school sophomore in Phoenix. And not just any Muslim.
He was only in fourth grade back then, but that shift in perceptions affected Imran directly. A few days later, all of a sudden his pals at school told him, "You can't play soccer with us anymore." When he asked them why not, they responded, "Because you're a Taliban."
The youngster was shocked and scared, but his family helped him see that his friends' reaction "came from ignorance, not from hate," he says.
Since then, Imran, his older sister Yasmine, and their mother, Dilara, have been hard at work on a dual project: to write a book that could dispel that ignorance and at the same time help Muslim youths deal with the many issues that confront them. The family discussed their five-year project in a recent phone interview from their home in Paradise Valley.
---