Women take on the Torah
A women's commentary on the sacred text, 13 years in development, could become a model for future works.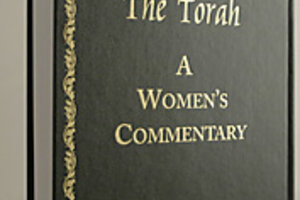 Mark Thomson
The Hebrew scriptures had been interpreted for thousands of years – by men. But one woman decided it was time that women's voices be added in significant form to the Jewish people's ongoing conversation about their covenant with God.
"If we are really serious about women's spirituality, about liberating the concepts of God and community, about integrating the Torah of our tradition into the Torah of our lives, then there is something very concrete that we can do," Sarah Sager told a national convention of Jewish women.
It was time for a commentary on the Five Books of Moses – the foundational texts of Judaism – to be written by the growing coterie of Jewish women scholars. The convention agreed, and her dream – first proposed in 1993 – has become a reality.
After 13 years of work by 80 women – archaeologists, rabbis, biblical scholars, historians, poets – the first printing of "The Torah: A Women's Commentary" was published in December, and sold out in five weeks. The work promises to have an impact not only on the most integral aspects of Jewish life, but also on biblical study by people of other faiths. Its unique, multilayered approach may serve as a model for future Bible commentaries.
"It's simply a magnificent work," says Rabbi Bradley Hirschfield, co-president of the National Jewish Center for Learning and Leadership. "It will broaden the range of students of the Hebrew Bible because they will feel this is a new avenue to approach an old text, and it will deepen all readers' appreciation of that text."
---