Rev. Jim Wallis searches for old-time justice
The author and activist aims to strengthen the link between spirituality and commitment to moral issues like poverty.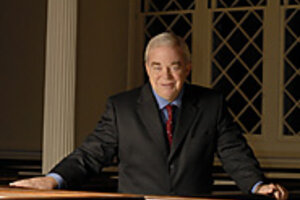 Mark Thomson
Jim Wallis is known internationally as a bestselling author, preacher, faith-based activist, and sought-after commentator on religion and politics.
Yet he calls himself "a 19th-century Evangelical born in the wrong century." His heroes are the faith leaders who ignited the social movements of their day, transforming America by ending slavery and child labor. Evangelist Charles Finney, he explains enthusiastically in an interview, linked religious revivals directly to the antislavery cause by signing up new converts immediately to the abolitionist campaign.
For the ebullient Rev­erend Wallis, faith isn't full-blown unless it goes beyond being a private matter to pursue the public good.
"What became of religion that believed its duty was to change society on behalf of justice?" he asks in his new bestseller, "The Great Awakening."
Could it be that its time has come again? Signs grow that a shift is under way in this direction within the evangelical movement, and particularly among the young. At the same time, Wallis's last bestseller – "God's Politics: Why the Right Gets It Wrong and the Left Doesn't Get It" – helped nudge Democratic presidential candidates into articulating a connection among their faith, values, and policies.
Currently on a 20-city book tour, the voluble white-haired preacher scoots from speeches in packed churches to radio and TV interviews, pressing his message that a new social movement is indeed stirring to address the moral issues of today.
To a Sunday-afternoon crowd at Trinity Church in Boston, he talks of faith's role in overcoming cynicism and bringing about societal change.
---