Michael Heller: a thinker who bridges science and theology
The priest and philosopher from Poland wins the 2008 Templeton Prize for advancing a complex dialogue.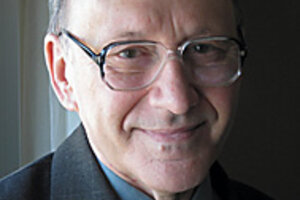 moises velasquez-manoff
Polish theologian, cosmologist, and philosopher Michael Heller, who lived through both Nazi and communist rule and has long sought to reconcile science and religion, has won the 2008 Templeton Prize.
The £820,000 prize (more than $1.6 million) is awarded "for progress toward research or discoveries about spiritual realities." The John Templeton Foundation, whose stated mission is "to serve as a philanthropic catalyst for discovery in areas engaging life's biggest questions," awards the prize yearly.
Author of 30 books in Polish and five in English, Mr. Heller, an ordained Roman Catholic priest and a professor of philosophy at the Pontifical Academy in Krakow, Poland, has made the fostering of dialogue between science and religion a priority.
"He's one of the key contributors in the international scholarly community dedicated to the creative dialogue on science, theology, and philosophy," says Robert John Russell, founder and director of the Center for Theology and the Natural Sciences in Berkeley, Calif. "He's a great example of someone who bridges these fields."
For Heller, these seemingly distinct realms of human understanding actually depend on one another for stability.
"Science gives us knowledge, but religion gives us meaning," he says. "Science without religion is not meaningless, but lame…. And religion without science [slides] into fundamentalism," he says.
---