How parents keep the faith: The rock of belief is at home
Soccer games may supplant Sunday school, but parents keep the faith by making home the rock of belief more than church-going.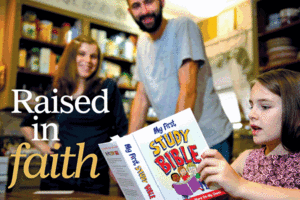 Ann Hermes/John Kehe/Staff
Jodi and Jason Engle of Hattiesburg, Miss., chuckle about their habit of saying grace before meals with their 3-year-old son, Wilhelm. After all, they're both skeptical of organized religion and aren't sure about God, either.
They started praying when Wilhelm insisted. Having learned in day care to bow his head and give thanks, he wants Mom and Dad to do the same. They now join him for a specific reason: They want to support his search for meaning.
"Until we had Will, I hadn't really put much thought into [religion] because I hadn't really gotten much out of it," Mr. Engle said after a Thanksgiving seder meal here at Our Home Universalist Unitarian Church. "But we think objectivity is important – to let him test it and make his own decisions – and not tell him, 'This is the way you have to believe.' "
"We want him to make his own decision one day about what he wants to believe in," Ms. Engle added. "We want him to ask questions. So if he wants to pray, then we're going to pray along with him."
Home is the primary setting where kids learn to make meaning of their place in the universe. That truth is never more poignant, it seems, than during the annual "December dilemma," when people of all faiths or no faith or mixed faith negotiate the Christmas rituals and images that loom so powerfully in American society.
What's more, home – not church, synagogue, or mosque – is increasingly where kids acquire religious character. In a time when shrinking percentages of Americans claim religious affiliation, sociological research and religious organizations suggest that responsibility for forming children's faith identities is shifting from institutions to parents. For families that embrace the challenge, parenting now involves serving as a child's primary guide through spirituality, which can involve everything from bedtime prayer to volunteering together as a family.
---